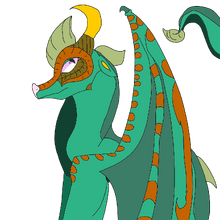 AuroraWings are Oresite's fan made dragons. I (Oresite) reposted the page here from the Fanon Wiki - please don't spam saying that I copied from myself. The page is still being moved, be patient.
THE AURORAWINGS BELONG TO ORESITE AND ORESITE ONLY. PLEASE DO NOT STEAL OR COPY FROM ME. THANK YOU
Description
AuroraWings are constantly changing color no matter what. They can also control their color to blend in with their surroundings, and that technique was used in the Great War to hide their kingdom (they did this by taking the entire population of the AuroraWing tribe, putting themselves on the Queen's castle, and changing color constantly to match their surroundings. Surprisingly enough, it worked!). They aren't very good with others, though. They're very rare and combinations of IceWings and RainWings.  
Abilities
AuroraWings, though not very good in combat, have many different abilities that make them sort of unique against other tribes. First off, they have the ability to create auroras. In a scavenger tale, it is said that the AuroraWings are responsible for the auroras they see throughout Pyrrhia. This is primarily for showing off, as it has no combat value whatsoever. Secondly, their wings. They are big and strong, which helps tremendously when fighting or traveling long distances (i.e. from one end of Pyrrhia to the other). Thirdly, like the IceWings, they have a freezing cold death breath. It is even more powerful than the IceWing's, though. Lastly, they can shoot venom. It is more deadly than the RainWings and can kill other dragons instantly, rather than the RainWing's venom taking minutes for an infected dragon to die.
Tribe Members
Queen
Queen Stillness {Oresite}
Princesses/Princes
Tribe Council Members
Other
Tribe Structure and Culture
In the AuroraWing tribe, there is a Tribe Council and 0
History and Lore
Territory
Ceremonies